Motorbike Accident Claims in Stockport
If you have been injured in an accident whilst on your motorcycle in  Stockport, and it wasn't your fault, then our no win no fee* personal injury solicitors could help you. We have a professional approach to motorbike accident claims. Our team will fight tirelessly to win you the best outcome for your case and help you win the injury compensation that you deserve. Call today to get started on 01615168849
Motorcycle Accident Solicitors
Some of our panel solicitors are in fact motorcyclists themselves. They understand the dangers on the road that bikers are exposed to every day.  With over a decade of experience in handling motorbike accident claims, our solicitors can help you to make a claim for damages including pain, suffering, loss of wages, damages to your bike, and any other related costs.
To get started simply call us to talk with a claims specialist. They will ask you some very simple questions about the accident, and then if we feel you are eligible to claim for motorbike accident compensation will arrange an appointment with one of our solicitors.
Types of Motorcycle Accidents
The types of motorbike accident compensation claims that we deal with are usually related to a typical set of scenarios. Of course, a road traffic accident can happen at any time, in any place and for a multitude of reasons. Generally speaking, the types of cases we deal with in Stockport are concerning:
Hit & Run Accidents
Diesel/oil spills
Shed Loads
Dazzling car head beams
Public transport accidents (including buses, trams and taxis)
Accidents caused by pedestrians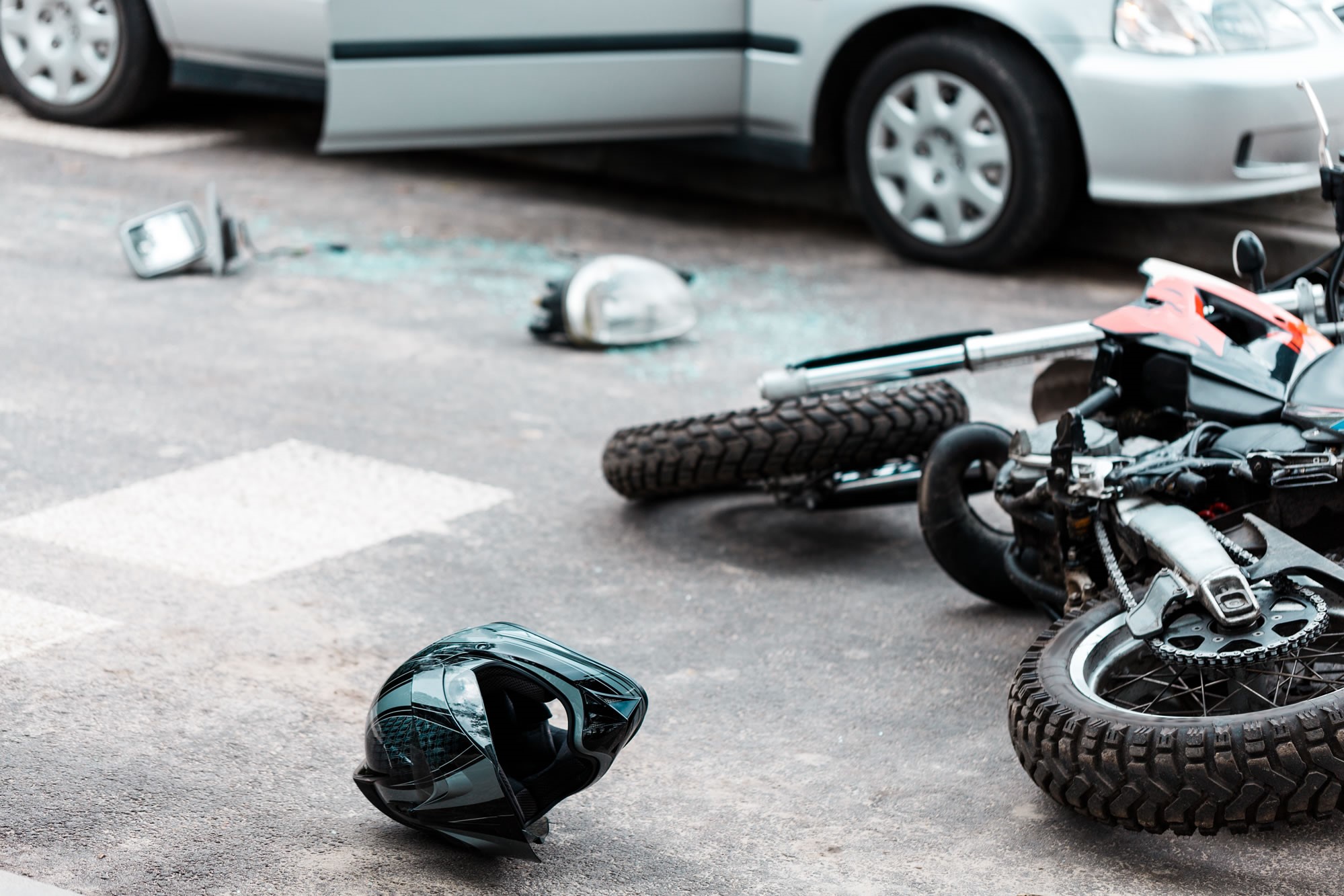 Motorbike Accident Compensation – What You Can Claim For
For riders in and around Stockport, we will aim to deal with your motorcycle accident compensation claim as quickly and as easily as possible.  Because our solicitors work on a no win no fee* arrangement, it means there's no upfront risk to you. Our lawyers will work to ensure that we recover damages for the following aspects:
Compensation for pain and suffering
Motorbike damages
Medical costs
Loss of income and/or employment
Travel costs
Motorbike Accidents – How Much Compensation?
No one accident is the same as another. The amount of motorbike accident compensation you can claim for is dependent on how seriously injured you were, how long the pain lasted, and whether or not you suffered a brain or head injury.
As each case is different, our Stockport motorbike accident claims team will only be able to make estimates on compensation payouts once we have spoken to you.
In addition to your costs for repairs and damage, there are also guides for injuries. Personal injury compensation claim amounts will vary – which is to be expected. It really depends on how you were injured, and the long-lasting affects you have suffered.
There are UK guidelines which are set-out to compensate for different forms of bodily injuries including:
Head injuries
Brain injury
Spinal damage
Neck injury
Leg fractures, breaks, and abrasions
Because the compensation amounts are so wide-ranging you will need to talk to one of our specialists on the phone for an accurate compensation estimate. Call today for a free phone consultation on 01615168849
Make a Motorbike Accident Claim with Our Solicitors
To get started simply call us on 01615168849. You will be asked some simple details about your accident, and based on the information that you give us, we will be able to quickly tell you whether or not you can make a claim for motorcycle accident compensation.
If you can, then we will arrange an appointment with one of our panel solicitors, who will represent you. With a proven track record of winning high compensation payouts for our clients, we are the preferred choice for motorcyclists in Stockport.
Start Your Personal Injury Claim Today
01615168849
Contact Our Motorcycle Accidents Claim Managers Now